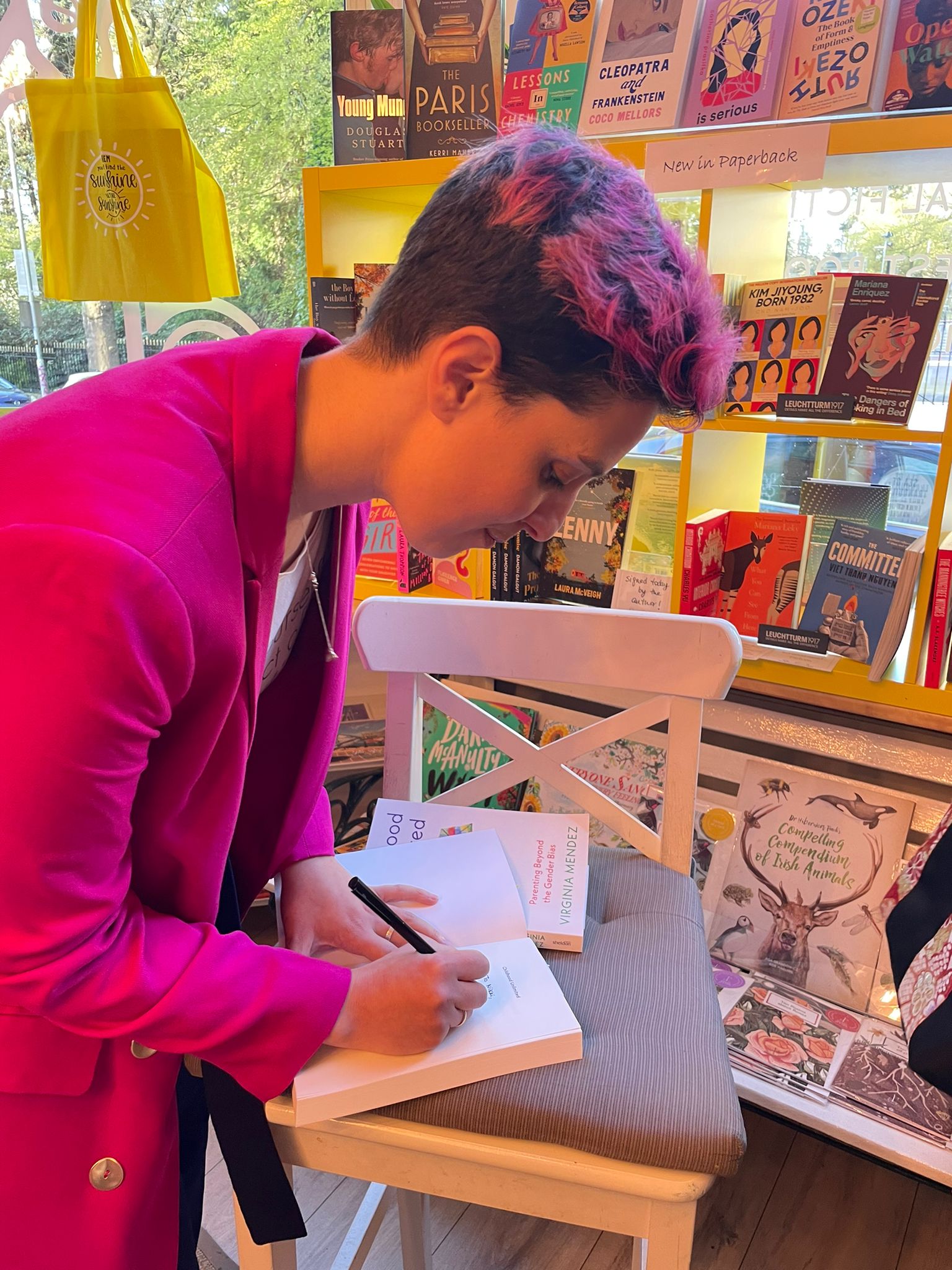 I was taking a bit of a walk down memory lane, very typical for this time of the year right, and thinking about how my own career has changed since the last time I interviewed myself in the blog. How I would say that I am an author and public speaker as the first thing when introducing myself, rather than "co-founder of The Feminist Shop" (which of course I always also say very proudly).
I thought it was time for me to answer the same questions I ask others, in this new journey and make you all part of it. 
Who is Virginia Mendez, the author of "Childhood Unlimited: parenting beyond the gender bias"?
I am an author, public speaker an entrepeneur with a focus on intersectional feminism. Everything I do is with the aim of challenging the bias and stereotypes that we as a society have, trying to crush the old narratives that keep things unfair and move towards a more diverse, inclusive and equal world. #nopressure
Because I am a mother, I am very conscious of how these problems start from very early years. It gives me a lot of hope knowing that we can do things differently from the beginning!

Why did you decide to write it? What is the story behind it?
It started because I kept having important conversations with friends and families, bringing them to the journey of research and observation I was having myself. They kept coming back to me saying how my voice was in their head when buying presents, or using certain words, or seeing things on TV. I knew it was having real impact, and I wanted to multiply that impact so we could all start implementing those changes that go long way!
What has been your biggest learning since you started?
Writing a book is hard and exciting, and like everything else the work seems to start only when you feel that the work is finally over! Every milestone felt like THE milestone. Writing the proposal, querying, getting a yes from the publishing house (can't explain the excitement), actually writing the book, finding the amazing experts to interview and convince them to be part of it, launching it, signing it for people that I don't know… Everything about the process is slower than you expect, but also incredibly rewarding.
Asking for reviews and promoting it is proving not to be my favourite part, but I really want it to get into many many homes!
What is the goal? The big vision of what you would like to achieve?
I want to change the world. My father-in-law wasn't convinced of me saying that in the beta version so I decided to put it in the intro as well. I am not delusional, I know I won't be able to do it myself, that my books won't end thousands of years of patriarchy, but I do believe that it will spark something inpeople, that it will make small changes and those small changes matter. I want to be part of the tools to move forward and make this generation of children more unlimited!

I already did the identical questionnaire for everyone when I originally interviewed myself HERE, and re-reading it I am happy to say that I stand by it.. but I didn't want to miss this opportunity to redefine what feminism is for me:
What is Feminism for you?
Feminism is the movement that joins us together to change society. An active fight for equality that understands privilege and recognises it in all different areas. It is the advocacy for allyship and justice.Feminism, intersectional feminism, is everything that becomes part of the solution to deal with the huge problem that is the patriarchy.
Read my full questionnaire here