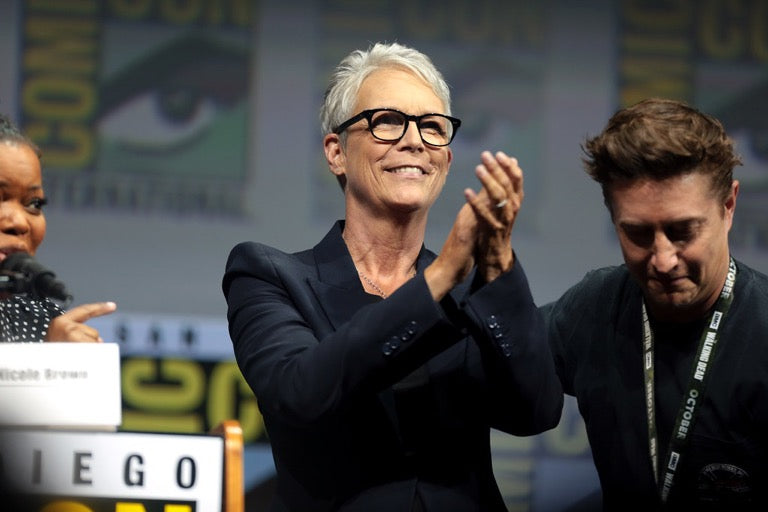 Article written by Ellie Spencer
---
In 1992, feminist film scholar Carol J. Clover coined the term 'final girl' to describe a common trope among slasher films. This now-famous term refers to the tendency of slasher films to always have a last woman standing in the final confrontation with the male villain. Rather than being the prettiest and most popular cheerleader, the final girl is often on the sidelines despite being conventionally feminine and attractive herself. She is typically innocent, righteous, virginal, and upholding of the moral code of the times. And last but not the least, the final girl is often androgynous.

This is done in order to make that girl more relatable to both male and female audiences. Meanwhile, the other more blatantly sexual females onscreen suffer gruesome deaths prior to the final showdown. And in the end, the seemingly weak, virginal girl emasculates the male villain and renders his phallic weapon useless.


The most iconic film to use this trope was 1978's Halloween by legendary horror director John Carpenter. This was the film in which Jamie Lee Curtis first played the role of Laurie Strode, who is now still recognised as the prototypical final girl from which many others have taken their cue. Over the years, many have hailed the film for its underlying feminist themes.

However, Curtis herself has weighed in on this issue, and she doesn't agree. "The movie has bred 1000 PhDs, but… in retrospect, I know that was not the intention here. It was not a feminist statement. It had nothing to do with the fact that promiscuous girls died and the virgin lived, none of it," explains Curtis in a previous interview. "It was written as an emotional journey of a very vulnerable girl being chosen as the centerpoint of this story, where this vulnerable creature is in collision with pure evil, and she's somewhat an archetype of this young vulnerable dreamer."

There's also something to be said about how the 1978 film's supposed feminism is rooted in the concept of virginity being emancipatory. As our own Virginia Mendez details, virginity is a problematic social construct that promotes heteronormativity and establishes false notions about female sexuality. They might've gotten away with this in the '70s, but in the #MeToo era, we can thankfully at least start putting such outdated concepts to rest.


After starring in Halloween, Curtis went on to star in several other iconic roles. Foxy Bingo recalls how Curtis took on the role of the fragile but determined Shelly DeVoto in the feel-good movie My Girl in 1991. Starring alongside fellow A-listers such as Dan Aykroyd and Macaulay Culkin, My Girl allowed Curtis to distance herself from her constant presence in the succeeding Halloween movies. The same can be said of her roles in 2001's The Tailor of Panama, 1991's Queen's Logic, 1983's Love Letters, and more recently 2019's Knives Out.


Yet however she might reinvent herself, Curtis just can't seem to shake off the past, as the role of Laurie Strode followed her throughout the decades. In 2018, Curtis once again starred in the latest and 11th Halloween film. While the film carried the exact name of the original one from four decades ago, it came with a new director in David Gordon Green – along with a new perspective. This time, the final girl came ready for the big bad villain. And in this final showdown, her family had her back.


"I don't know if 40 years ago I would have ever thought that Laurie Strode would have a daughter, let alone a granddaughter," explained Curtis in an Entertaiment Today interview discussing 2018's Halloween. "I just don't think I ever took it that far. Trauma is a generational disease because it affects everybody in the family. So that's what I think is so exciting about [this film]. They've explored that through the relationships between mother, daughter, granddaughter."

There you have it. While the iconic final girl herself is doubtful that 1978's Halloween is anything close to being feminist, there's certainly a case to be made when it comes to 2018's Halloween. If anything, the 40-year gap between these iconic slasher films is representative of the long and hard road that women in entertainment have had to endure.
--- 

  IMAGE CREDIT: Gage Skidmore under CC BY-SA 2.0 License – No changes were made to the image.