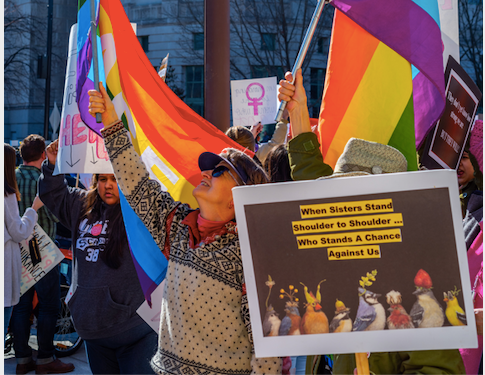 We are absolute fans of the creativity on display during demonstrations. We love the power of those placards and the aligned voices of hundreds or thousands of people shouting at the same time. It is something really powerful and it literally would energise you for days! So if you weren't already thinking of going to a demonstration this year, give it a go, mingle with the passionate people standing behind you, see yourself in everyone else and shout it out! All of it! 
If you also want to get your banners ready but are not sure what to write on them, don't panic! We have done some research about the best international placard quotes and translated them so you can borrow them! All united around powerful words!
1. On my way home I don't want to be brave, I want to be free
2. Without Hermione, HarryPotter would have died in the first book
3. We are the grand-daughters of the witches you couldn't burn
4. They tried to bury us but didn't realise that we are seeds
5. If it's love it doesn't hurt
6. Girls just want to have FUN...damental rights
7. A woman's place is in the resistance
8. If you touch one of us you touch all of us
9. Rage against the Machisim
10. I didn't come from your rib, you came from my ...
11. The opposite of feminism is ignorance
12. We are stronger than we are scared
13. When Voldemort is President we need a nation of Hermiones
14. Respect my existence or expect resistance
15. Times New Woman
16. They have taken so much from us that they have taken away our fear
17. Don't tell me how to dress, tell them not to rape
18. Sorry for the inconvenience, we are trying to change the world
19. Ugh, where do I even start
20. Sexism is a social disease
21. Today we will make it to the news, but we won't stop until we make history
22. You are scared of Feminism because you think we will do to you what you have done to us
23. Not one less
24. We are the voice of those no longer here
25. The power of people is stronger than the people in power
26. Angry women will change the world
27. What I couldn't have I want to be yours
28. Never too young to respect women
29. My body is not asking for your opinion 
30. Nobody asked me what my rapist was wearing
We can't wait for our local march and will soon to start preparing our banners. Any favourites that you would recommend? Let us know
@thefeministshopdotcom
You can check our Pinterest board 
here 
and we will keep updating it for inspiration, who knows which one will end up on one of our t-shirts!
Remember that if you want to wear your activism during the march, or any other day of the year we have lots of
ethically sourced apparel 
with fantastic slogans to chose from!