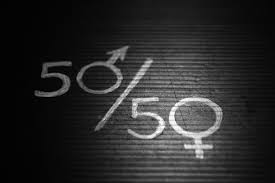 The white, straight man is the human neutral person. We don´t need to specify any of those aspects because they are normal. It is the "minority" that needs to be highlighted, clarified, pointed out. In the case of gender a "minority" of 51% of the population.
People love stories, they engage with stories, with a name and a face. They will connect empathically with the suffering of one person, not realising that behind the big numbers there a lot of those people, each of them with their own story worth connecting to.
28 women a week, over 1000 women a year had to travel from Northern Ireland to have an abortion, because of the massively restricted prohibitions, making abortion, under any circumstance criminal. (Happy to say that thanks to the endless job of activists and lobbyist is now decriminalised from the 22nd October 2019)
62 million girls are denied and education all over the world
30% of women that have been in a relationship report that they have experienced some form of physical or sexual violence from their partner
Women around the world aged 15-44 are more at risk from rape and domestic violence than from cancer, malaria, war and car accident combined
An estimated 15 million girls under 18 are married worldwide
Female Genital Mutilation affects more than 200 million women alive today in 30 countries
540000 women a year in UK are pushed out of their jobs due to pregnancy or maternity leave
Those are the statistics that we chose for our #ForMeForHer campaign, in which we wanted to highlight that it is true that we all benefit from feminism, but even if we didn't those numbers should make us all reunite and agree that there is a problem. A quantifiable problem, and we need to do better and be better to stop it.
We need to start considering Feminism in numbers and real data to give visibility to the hidden problem, to put reality in perspective, to scrap the debate from any subjectivity and to put things in black and white. So even the more sceptical can see it. And then join us.