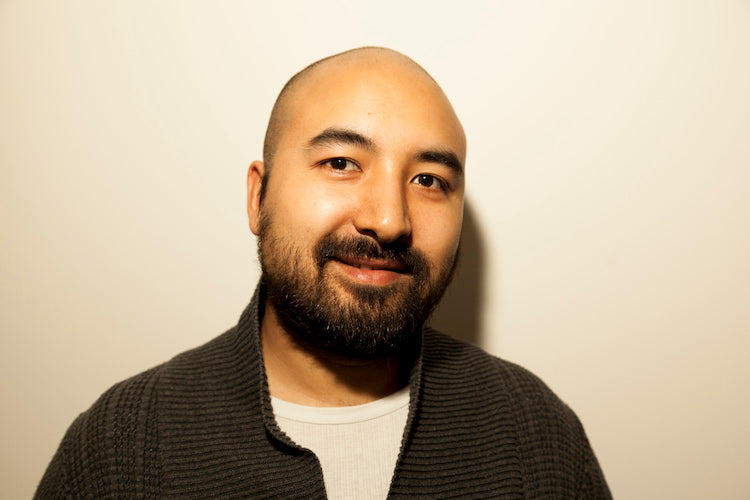 Internet is a wonderful place. I know it is a horrible place too, but it is also the place where you can meet people like Han-Son creating a community for fathers to be involved in the way they need to be. For themselves, for the society, for the kids... Basically a great win-win-win
Who is Han-Son Lee, the man behind DaddiLife?
Hi there, I'm Han-Son the Founder of DaddiLife - the leading platform for modern day fatherhood.
I was born in London in the 1980s, and as well London I have lived across the world - in America and Asia, and I'm the proud father to one bonkers 7 year old.
Why did you decide to start it? What is the story behind it?
When I became a dad I knew I wanted to be a very different type of father to what I had growing up, but everywhere I looked online there were only dad blogs - some of which I enjoyed, but they failed to represent a wider collective of fatherhood, and the generational shift that was taking place for modern day dads.
 It started as a small social page, and has grown to become a large community, publisher and change agent for modern day families across the world.
What is the biggest impact on what you do?
We are creating a new norms around what fathers do, what fathers represent, and how modern day families can learn and thrive.
We've worked with on a number of large scale change projects from new groundbreaking research on working fathers through The Millennial Dad at Work, and New Pathways for Young Fathers, through to new ways of creating culture change for dads at work, and a best selling Pregnancy book for dads.
What has been your biggest learning since you started?
Sleep is underrated. No that's a joke - it really isn't underrated at all!
One of the biggest things to date, and it's something that I've taken great heart from is a learning I had in Lego HQ. We were given a unique opportunity to run a workshop with delegates from over 100 countries and attendees from the likes of The World Bank and the UN and many more, and we asked about the state of modern day fatherhood in those countries.
The answer was profound - that there really was no such thing as perfect parenting.
It's been a pressure valve that's been released since really understanding that that meant.
What is the goal? The big vision of what you would like to achieve?
We'd like to keep campaigning for what we call real equal parenting - from parental leave through to dads at work and of course at home - what drives real equity and equality for modern day thriving family is our goal.
---
And this is the feminist questionnaire identical for everyone
What is Feminism for you?
It's about real equality.
I was brought up by a single mother, and it meant I saw and heard things very early on in my life. My mum was not shy about sharing all the details with me, and it actually left me with a strong sense about fairness, equity and equality.
Feminism for me, is about the right to be treated equally, and to engage in equality in what we give to others.
Which"everyday sexism" really bothers you?
"Are you babysitting"
The amount of times I still hear a gendered approach to parenting is frustrating.
Dads don't babysit - it's called parenting!
Do you remember when you start identifying as a Feminist and why?
To be honest, I don't think I had another choice in growing up. I've always had strong female role models around me, and I was brought up with a deep sense of respect and fairness.
I've never seen something significant that a man does that a woman can't do.
Who is your biggest feminist role model?
As cliche as it sounds, it is my mum. She's the one that gave me my ideals and principles and she is still the strongest feminist I know.
What is your favourite Feminist quote?
"Feminism isn't about making women stronger. Women are already strong, it's about changing the way the world perceives that strength." By GD Anderson.
 I just really love that quote!
What is your proud feminist victory?
Being able to start seeing feminism as a partnership that some men (and dad's specifically) can ally with, support and advocate - particularly around the dads at work agenda that we're driving.
What is your feminist recommendation?
Book: This is a little left field, but I really enjoyed a book called Founders at Work. It's a series of interviews by Jessica Livingston - the wife of Paul Graham - who's been instrumental in the world famous Y-Combinator start up accelerator. She interviews founders from all over the world, men and women, who the reader can see and feel in their own journey of joy and failing, and then joy again. It's not a book that positions itself as a feminist book, but i think it is!
Film: I really enjoyed the latest James Bond, and I thought it was the first time that franchise has really showed how both men and women can not only do the same role (007) but also the range of emotional and physical extremes that both can suffer and thrive in too. It was a wonderful advert for feminism, and family.
What is your feminist call of action to whoever is reading?
Feminism is an everyday decision, and with that decision you can choose whether you move it forward or not.